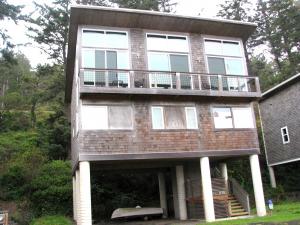 Bay Haven is a beautiful home on Happy Camp that has a great ocean and bay view
Click image to enlarge
Basics
| | |
| --- | --- |
| Bedrooms | 3.0 |
| Sleeps | 8.0 |
| Bathrooms | 1.5 |
| Today's rate | $265.00 |
| Today's minimum stay | 2 |
| Cleaning Fee | $100.00 |
| Pets | This unit accepts pets |
Prime Season is from May 15th through October 15th. Quiet Season is from October 16th through May 14th with the following exceptions: Spring break (March 18th through March 27th), the Thanksgiving holiday period (Wednesday before Thanksgiving through the Saturday after Thanksgiving) and Christmas through New Years (December 23rd through January 1st).
Please note: This unit has a non-refundable cleaning fee of $100.00. This will automatically be added to your cart prior to creating your reservation.
About Bay Haven
Bay Haven was constructed in 2005 and has all the amenities to make your vacation a memorable experience. It has three bedrooms, and one and a half baths. This home can accommodate 8 guests.
Features
| | | | |
| --- | --- | --- | --- |
| Cable Television | | Back Deck | |
| Breakfast Bar | | Dining Area | |
| Charcoal Grill | | Fire Pit | |
| Gas Fireplace | | Wireless Internet | |
| CD Player | | VCR/DVD Combo Player | |
Testimonials
We appreciate your testimonials. Feel free to add yours here!
Please login to your account to add a testimonial.
07/14/2020
After months in COVID shut down we really wanted to just get away and relax. We loved Bay Haven. Perfect in every way. Theresa assured us that they do a deep, disinfectant cleaning in between each guest, so we felt comfortable taking the risk during this stressful time. It was wonderful to get out in the fresh air, walk the beaches and the stars were incredible. As a family with my grandchildren, it was nice to just pretend that their were no problems in the world. Thank you for being open and taking the steps needed to assure health concerns. We will definitely rent this place again.