Cabin #19 - Wavescape formerly known as "The Strand" Back to rentals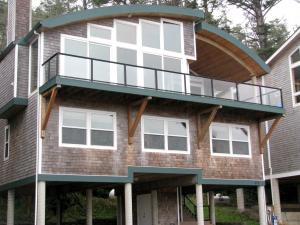 Wavescape formerly known as "The Strand" is a contemporary executive home with an excellent Happy Camp ocean view
Click image to enlarge
Basics
| | |
| --- | --- |
| Bedrooms | 3.0 |
| Sleeps | 10.0 |
| Bathrooms | 2.0 |
| Prime season | $300.00 |
| Quiet season | $275.00 |
| Today's rate | $275.00 |
| Today's minimum stay | 2 |
| Cleaning Fee | $135.00 |
| Pets | This unit accepts pets |
Prime Season is from May 15th through October 15th. Quiet Season is from October 16th through May 14th with the following exceptions: Spring break (March 18th through March 27th), the Thanksgiving holiday period (Wednesday before Thanksgiving through the Saturday after Thanksgiving) and Christmas through New Years (December 23rd through January 1st).
Please note: This unit has a non-refundable cleaning fee of $135.00. This will automatically be added to your cart prior to creating your reservation.
About Wavescape formerly known as "The Strand"
Wavescape formerly known as "The Strand" was built in 2005 and has three bedrooms and sleeps 10 guests. The lower level has the three bedrooms and two baths. The master bedroom has a queen bed and private bathroom. The second bedroom has a queen bed. The third bedroom has a bunk bed and a futon that sleeps two. There is a hall bathroom with a tub and shower for the second and third bedrooms. The upper floor includes: living, dining, kitchen, reading or play area, and a full bathroom. A circular staircase leads to the loft which has a futon that sleeps two. The upper level and loft has large picture windows facing the oceans. Wavescape is now pet friendly
Features
| | | | |
| --- | --- | --- | --- |
| Cable Television | | Back Deck | |
| Breakfast Bar | | Dining Area | |
| Radiant Floor Heating | | Loft with Sleeping | |
| Wireless Internet | | CD Player | |
| VCR/DVD Combo Player | | Propane Grill | |
Testimonials
We appreciate your testimonials. Feel free to add yours here!
Please login to your account to add a testimonial.