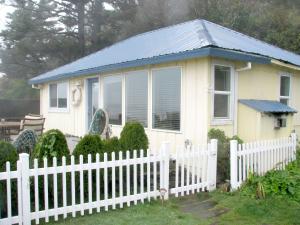 Cabin 9 is our Sand Castle with a large private deck beachYou are so close to the ocean,
Click image to enlarge
Basics
| | |
| --- | --- |
| Bedrooms | 2.0 |
| Sleeps | 6.0 |
| Bathrooms | 1.0 |
| Today's rate | $180.00 |
| Today's minimum stay | 2 |
| Cleaning Fee | $50.00 |
| Pets | This unit accepts pets |
Prime Season is from May 15th through October 15th. Quiet Season is from October 16th through May 14th with the following exceptions: Spring break (March 18th through March 27th), the Thanksgiving holiday period (Wednesday before Thanksgiving through the Saturday after Thanksgiving) and Christmas through New Years (December 23rd through January 1st).
Please note: This unit has a non-refundable cleaning fee of $50.00. This will automatically be added to your cart prior to creating your reservation.
About The Sand Castle
The most popular rental at Happy Camp Hideaway, The Sand Castle is a two bedroom, one bath beach bungalow that is part of the original Happy Camp Hideaway resort built in 1902. The Sand Castle has an ocean facing outdoor deck, and a private back yard with outdoor fireplace. This bungalow features an open living, kitchen area with breakfast bar.
Features
| | | | |
| --- | --- | --- | --- |
| Cable Television | | Outdoor Fireplace | |
| Breakfast Bar | | Dining Area | |
| Charcoal Grill | | Fire Pit | |
| Gas Fireplace | | Wireless Internet | |
| CD Player | | VCR/DVD Combo Player | |
Testimonials
We appreciate your testimonials. Feel free to add yours here!
Please login to your account to add a testimonial.
06/07/2018
We are finishing another great stay at Happy Camp! We have stayed at nearly all the cottages now through the years. This stay was in the Sand Castle which we love, even with slanting floors. 😀 The sand Castle has huge windows with fantastic views for cloudy days, along with a gas fireplace! Several days this week we were on the deck with the sun shining and water sparkling. Our two dogs were in dog heaven on the beach! The Cottage is very comfortable with everything we need and is clean with fluffy towels. It is an old cottage, but charming and cozy. Fabulous stay with lucky June sunshine. We will be back in August for more of Teresa's hospitality! Thanks! Les and Mary Anne Birr
03/24/2016
Stayed in #9 for the 1st time last October, have stayed in Happy Camp before and liked the look of #9, it is as good as it looks! Having your own private front deck and side fireplace was awesome! Ate breakfast on the front deck several mornings, what a view! Loved that it had a washer and dryer, had all you could need in the kitchen, very cozy place! Great view from the living room of the beach! Already booked another week the 1st of May 2016 for 5 nights, to spend time with our son whose in the USAF stationed in Utah, can't wait!
12/12/2012
We have been coming to Happy Camp for four years now and the friends that we come with just stayed for the 11th year in a row. We love this place so much. It is peaceful and beautiful. It very calming to the soul. We intend to keep coming back because we love crab fishing on the beach and sitting on the beautiful deck and watching the ocean. Thank you Teresa for your hospitality. Jeff and Lorrie, Kelly and Laura
05/12/2012
We had a wonderful week-long stay last week - the house felt like home and was very, very cozy. Loved the different spaces in and around the house providing lots of opportunity for enjoying the beach, the outdoors, and excellent family time all around. Truly a relaxing visit thanks to this lovely little house and the thought that's gone in to what's provided in the kitchen, etc. We will be back!
01/17/2011
OMGOOOOOOSH what a wonderful experience....Cabin 9 was our hideway for 4 days.Spacious, clean & well decorated..with a warm and homey felling... The view out the living room windows was AMAZING....The cabin sits just back from the beach and a stone throw away to surf's edge....I cant wait to come back in the spring to possibly better weather to use the awesome HUGE fireplace outside and the private deck....My friends swept me away for my birthday to happy camp...The best birthday ever... Thank you soooo much for the wonderful accommodations....I truly was a "HAPPY CAMPER" Debi Weston