The History Of Happy Camp in Netarts, Oregon
Happy Camp Hideaway is located at the mouth of Netarts Bay. It has been a vacation spot since the early 1900s with its bountiful dungeness crab, clam and oyster beds and protected harbor. Click on this link for history and photos.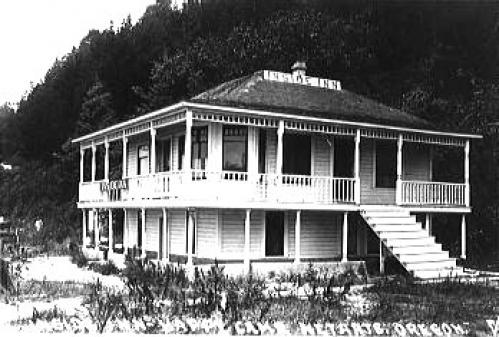 Over the years, Happy Camp Hideaway has been owned by many different families. The current owners, Teresa and Bruce Lovelin purchased it in 2000 moving from nearby Portland, Oregon. The centerpiece is the Homestead House, a southern plantation style two story home built in 1902. The Homestead is the oldest home in Netarts and is shown in many Oregon Historical photographs (see link above). The home was constructed entirely of logs that came ashore during winter storms and were milled on site. Cabin 9, the Sand Castle, was the carriage house for the camp. The other cabins were built in the 1940s with remodeling a reoccurring fact of life given the frequent winter storms. The new homes on Happy Camp Road used to be a tent camp converted to an RV park. It was finally closed in 2005 and the remaining lots were sold for development and turned into some of the Oregon coast vacation rentals Happy Camp now manages.
Today, Happy Camp Hideaway is frequented by guests year around from all parts of the world. Happy Camp offers everything from rustic one bedroom cabins to large modern homes. Magnificent Oregon Coast weddings, family reunions, or a quiet couple's weekend describes the wide variety of uses. We also cater to pet lovers with our many pet friendly vacation rentals and an off leash dog beach.