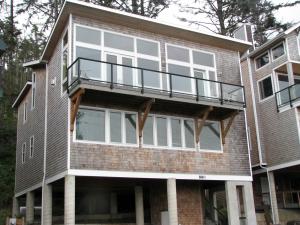 Wow - Family Tides is one of the most luxurious homes in Happy Camp. You won't be disappointed.
Click image to enlarge
Basics
| | |
| --- | --- |
| Bedrooms | 4.0 |
| Sleeps | 14.0 |
| Bathrooms | 3.0 |
| Prime season | $345.00 |
| Quiet season | $295.00 |
| Today's rate | $295.00 |
| Today's minimum stay | 2 |
| Cleaning Fee | 125 |
| Pets | This unit DOES NOT accept pets |
Prime Season is from May 15th through October 15th. Quiet Season is from October 16th through May 14th with the following exceptions: Spring break (March 18th through March 27th), the Thanksgiving holiday period (Wednesday before Thanksgiving through the Saturday after Thanksgiving) and Christmas through New Years (December 23rd through January 1st).
Please note: This unit has a non-refundable cleaning fee of 125. This will automatically be added to your cart prior to creating your reservation.
About Family Tides
The newest home in Happy Camp. Family Tides is brand new and ready to provide you an outstanding vacation. This home can sleep 14 with four bedrooms and three baths. It has a beautiful granite kitchen equipped with every accessory. In the living room is a gas fireplace and large flat screen television that overlooks the incredible views of Pacific Ocean and Netarts Bay. Another flat screen television is in the media room along with kids games, a Bose sound system, and a queen murphy bed. Family Tides also has a large hot tub on the private back deck. This home has exceptional views from the front deck and will provide you with years of Happy Camp memories.
Features
| | | | |
| --- | --- | --- | --- |
| Cable Television | | Back Deck | |
| Breakfast Bar | | Dining Area | |
| Charcoal Grill | | Hot Tub | |
| Radiant Floor Heating | | Gas Fireplace | |
| Wireless Internet | | CD Player | |
| VCR/DVD Combo Player | | Propane Grill | |
Testimonials
We appreciate your testimonials. Feel free to add yours here!
Please login to your account to add a testimonial.
10/24/2012
This was our second visit to Netart's and our second resort home rental. We had a fairly large group getting together for my wife's family reunion. We hadn't had everyone together for over 10 years and wanted the experience to be special. Family Tides exceeded our expectations in every way. The home was the perfect size for our group of 13 adults and two small children. All the furnishings and decor made the home seem both elegant and cozy. Several members of the group enjoyed the hot tub and large deck. We also made use of the gourmet kitchen that was very well equipped, we didn't have to worry about bringing any kitchen gadgets or small appliances. The view of Netart's Bay was breathtaking and we enjoyed some great weather during our stay which gave everyone a chance to step outside and walk the beautiful beach that was practically on our doorstep! My wife and I discovered this place last year and have enjoyed getting to know Teresa and her husband Bruce. They have made Netart's and Happy Camp our favorite "home away from home" and we plan to go back at least once a year!