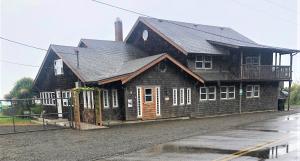 O'Hearn's Heron has been newly remodeled and is the largest home in Happy Camp
Click image to enlarge
Basics
| | |
| --- | --- |
| Bedrooms | 5.0 |
| Sleeps | 10.0 |
| Bathrooms | 3.0 |
| Today's rate | --- |
| Today's minimum stay | --- |
| Cleaning Fee | $150.00 |
| Pets | This unit accepts pets |
Prime Season is from May 15th through October 15th. Quiet Season is from October 16th through May 14th with the following exceptions: Spring break (March 18th through March 27th), the Thanksgiving holiday period (Wednesday before Thanksgiving through the Saturday after Thanksgiving) and Christmas through New Years (December 23rd through January 1st).
Please note: This unit has a non-refundable cleaning fee of $150.00. This will automatically be added to your cart prior to creating your reservation.
About O'Hearn's Heron
O'Hearn's Heron is the largest home in Happy Camp. It is oceanfront with private beach access. Built in the early 1900s, it has been completely updated but still retains it classic beach house charm. The home features five bedrooms (four queen beds and one bunkroom), three full bathroom, a large kitchen and three living/entertainment areas. It has a fenced yard with large deck perfect for entertaining. Pets are allowed but owners must ensure the dogs are well behaved. Prior approval for pets is required. This beautiful home accommodates 10 guests with it five bedrooms. Once you stay here, you will want to come back.
Features
| | | | |
| --- | --- | --- | --- |
| Cable Television | | Back Deck | |
| Breakfast Bar | | Dining Area | |
| Charcoal Grill | | Granite Countertops | |
| Loft with Sleeping | | Fire Pit | |
| Wheelchair accessible | | Wireless Internet | |
| CD Player | | VCR/DVD Combo Player | |
Testimonials
We appreciate your testimonials. Feel free to add yours here!
Please login to your account to add a testimonial.
01/10/2013
We stayed here for my sisters wedding. I was 9 months pregnant and found it very comfortable! It was a beautiful wedding which we had on the beach and wonderful reception in the yard. We LOVED our stay and have talked about coming back as a family!!! I think this is the best home they have!